The Isle of Mull is at the centre of a whole group of islands, the best known of the smaller islands being Iona, famous as the cradle of Scottish Christianity, and Staffa, known for Fingal's cave. Other islands within the group are Ulva, Gometra and the Treshnish Isles. There are plenty of boat trips available to make for a memorable day out, but for landlubbers the views of the Islands from Mull itself can be spectaular. A Mull sunset is never to be forgotten. The Island capital, Tobermory, is a charming little town with a picture postcard harbour and interesting shops.
Fishing, sea and loch fishing may be enjoyed within easy reach of the cottage for brown trout, with Salmon, sea trout, available from the rivers when they are in spate. There is guiding available and details of available fishing are available for download on our download page.
Sailing, Diving and Hill Walking are also poular pursuits on the Island.
Wildlife is abundant on Mull and the surrounding islands, which are a mecca for bird watchers who come to see the puffins, sea and golden eagles, owls… the list is almost endless, let alone the otters and deer., .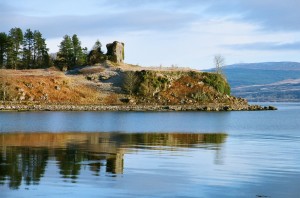 Aros Castle
There are many Historic and Archaelogical sites to be explored on the island generally, but an ancient track starts at the hill gate beside Kate's Cottage and leads past the fort and through the forest to the archaelogical site of Killiechronan on Loch na Keal. Aros Castle ruins are a short walk away from the estate and are reputed to have been visited by Robert the Bruce. Other famous castles on Mull are Duart and Torosay. A narrow gauge railway links the ferry terminal of Craignure with Torosay castle.
Golf is well catered for with two 9-Hole courses on the Island, the course at Tobermory offering superb views as well as fresh air!
And if you still need inspiration check out these 39 things to do on the Isle of Mull courtesy of our friends at Tripadvisor.